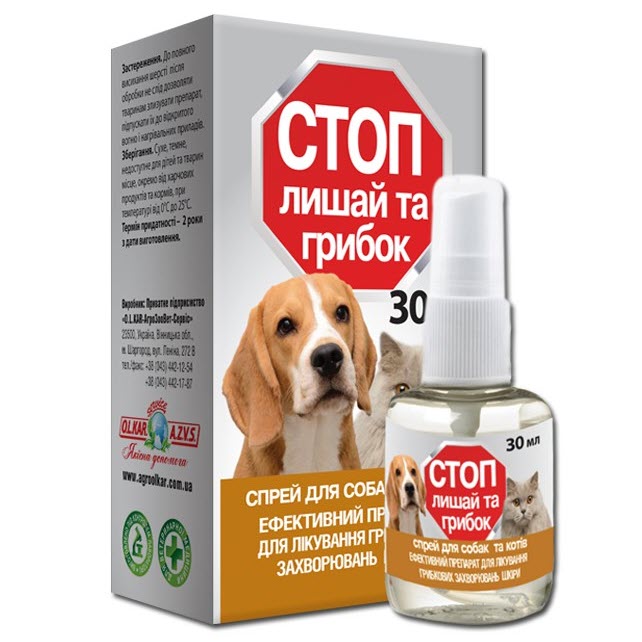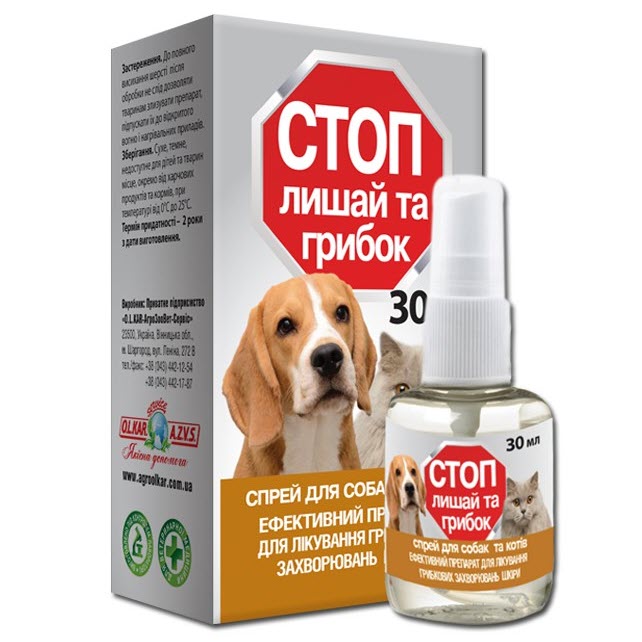 Stop lyshai and grybok anti fungal spray 30ml
50.00د.إ
Compare
Description
Description
The liquid from light yellow to light brown color with a weak specific smell.
Composition
100 ml contains active substances (g):
clotrimazole – 3.0; extract of propolis – 3.0; dimethyl – 5,0; glycerine – 9.0; isopropyl alcohol – 40.0; distilled water – 100 ml.
Pharmacological characteristic
The drug has a pronounced fungicidal action against pathogens of trichophytosis and microsporia of dogs and cats. Excipients increase fungicidal activity of clotrimazole, help to reduce inflammation of skin, improve healing of damaged tissues.
Application
Treatment of dogs and cats trichophytosis and microsporia.
Dosage
The drug is applied on the skin by swab at the rate of 0.2-0.3 ml per 1 kg of body weight. Treatment is carried out once a day for 10-15 days before clinical recovery of animals that confirm by microscopic studies of skins crapes.
In order to prevent lick of the drug to animal wear a muzzle, which is removed after 15-20 minutes after treatment.
Contraindications
Do not handle pregnant and lactating animals; infectious diseases of animals; puppies and kittens younger than 4 weeks.
Precautions
Until complete drying of hair after treatment do not allow to animals lick drug, fend them to open fire and heaters.
Form of packaging
Рolyethylene bottles 30 ml
Storage
Dry, dark, inaccessible to children or animals place, away from food and feed, at temperature from 0 ° C to 25 ° C.
Expiration date –  2 years from the date of manufacture